Mustang Monthly
Spirit Week
What's all the excitement?
Spirit Week is a special time of year and the excitement in our hallways was palpable. Autumn on the Immaculate campus is undeniably beautiful, but it is also a great time to be a Mustang with our Pep Rally, Homecoming and SWC games…but spirit week is definitely a favorite! Our students, faculty and staff were encouraged to participate in the spirit wear themed days: Monday: USA pride, Tuesday: Adam Sandler Day, Wednesday: Character Day, Thursday: Country/Country Club, Friday: class colors. We must say that the creativity at IHS is quite impressive.
Thanks to the direction and inspiration of our music department teachers, Jen Doherty and Anthony Pelligrini, our Immaculate's Got Talent was held at Edmonton Town Hall, Newtown this past Wednesday night. Students, staff and alumni showcased their amazing singing, acting and dancing acts to a full audience. Proceeds from the show benefit the fine arts department.
From November 17th-19th, the IHS Drama Club Washington Irving's classic American tale of Icabod Crane and the Headless Horseman, The Legend of Sleepy Hollow.

Synopsis: The spooky classic story by Washington Irving revolves around the main characters—the bumbling schoolteacher Ichabod, the coquettish Katrina, and Ichabod's brutish rival, Brom Bones. These characters along with a group of storytellers, tell the tale of the infamous headless horseman and his ride through Sleepy Hollow.

Preview Performance: Thursday, November 17th @ 7pm | Tickets General Admission $20 - Students $10

Dinner Theatre: Friday, November 18th & Saturday, November 19th
Dinner @ 6pm | Show @ 7pm
Tickets $30 | Family of Four Discount - $100

The Friday night & Saturday night dinner theatre includes a buffet-style meal (pasta, meatballs, chicken, salad, etc.) prior to the performance. Coffee and dessert will also be provided to enjoy during the show.
Tickets go on sale November 4th and can be purchased here.
Decisions determine your destiny. That was the message from our guest speaker Mike McCoy, a former NFL player who now spreads faith, hope and encouragement to students in Catholic schools. This All-American at the University of Notre Dame runs Mike McCoy Ministries. He talked to our Mustangs about making good decisions, dealing with peer pressure and developing the self-confidence needed to achieve success in life.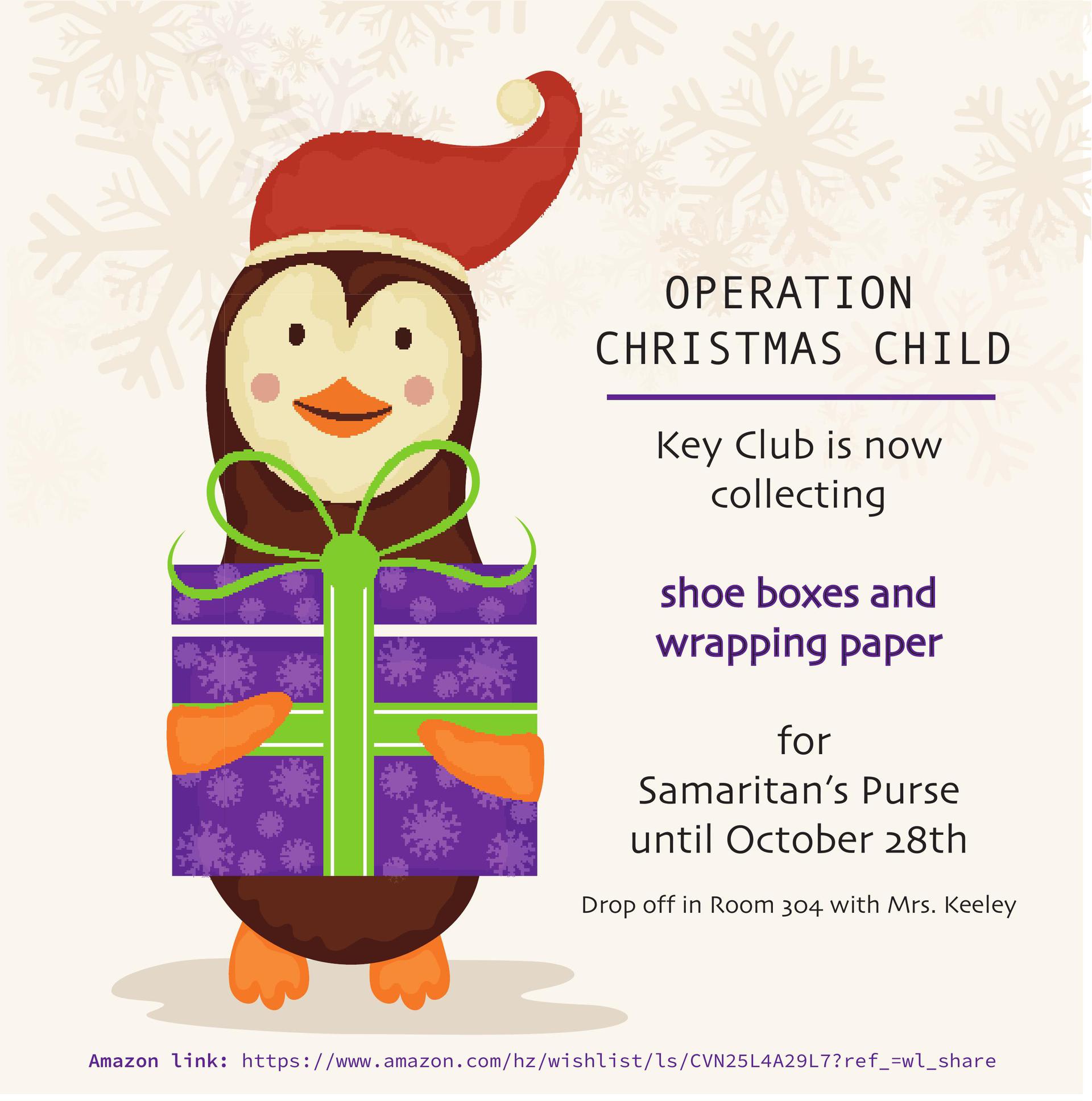 Help the Key Club Support Operation Christmas Child
Our Immaculate Key Club needs your help! The group is participating in Samaritan's Purse project Operation Christmas Child again this year. This program delivers joy and the Good News of Jesus Christ to children in need around the world through gift-filled boxes. The Key Club would like to fill as many boxes with gifts as possible. If you have any extra shoe boxes or Christmas wrapping paper, please consider donating them to this great cause. You can drop your donations off to Mrs. Keeley in Room 304.
Key Club is proud to help in this mission. Attached is a link to an Amazon wishlist of gifts and essential items that would make a child's year. We sincerely appreciate any donations!
Amazon link: https://www.amazon.com/hz/wishlist/ls/CVN25L4A29L7?ref_=wl_share